Let me tell you how I spent the morning of my mid-week one day Tuesday holiday. It all started last week when I received the cutest breakfast invitation in the form of the tiniest black pan with a smiling piece of toast stuck to it. The Gathering Bistro, a restaurant in Salhiya Square that I've enjoyed dining at numerous times since its opening exactly a year ago, have finally decided to serve breakfast and the cute toast with the pan was an invitation for a breakfast preview before actually launching breakfast next Sunday.
Yesterday, Tuesday, was a holiday celebrating the occasion of the new Lunar year and what better way to enjoy a day off midweek than to have breakfast outdoors at a new place surrounded by friendly faces? We made our way to The Gathering Bistro not so early on Tuesday morning, 10 A.M. more and beyond. Salhiya Square was almost empty and the weather was gorgeous, sunny with a cool breeze, and there were but a few tables occupied already.
After a warm welcome by the owners of The Gathering Bistro we decided to sit outside to enjoy the morning cool weather and the sun and as we sat down we realised we were going to have breakfast with a view of Kuwait's Liberation Tower -and an old cemetery wall but you get used to the fact after a few too many visits to the area-.
There was no menu to choose from but we were asked about our likes and dislikes and whether we wanted pancakes, waffles, or French Toast for dessert. We did get to order our beverages, green tea and black coffee as always for me.
My coffee did take a tad too long to arrive for my liking but the staff were busy with the breakfast testing and I'm sure they'll be delivering beverages promptly once they open up for breakfast. Grumpy non-morning people need to inhale the scent of coffee first thing in the morning before they could function properly.
Almost immediately after we ordered our drinks there was a basket of toast triangles with a little bowl of butter on the table, what's breakfast without warm toast?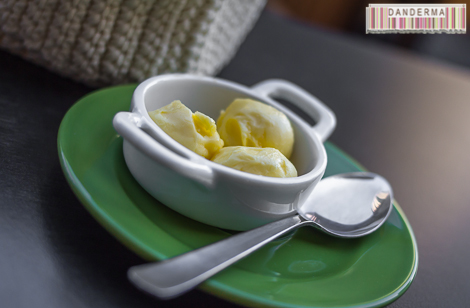 The first breakfast dish to arrive was The Breakfast Flower. Its supposed to look like a flower, with slices of potato chips lining up a pan where a few eggs were baked with cheese and herbs.
The dish wasn't something I'd try, especially with the ball of the yellow yolk pulled out from between the folds of cheese and egg whites, but my husband who was my dining companion that morning liked it a lot. Don't let the size of the pot fool you, the dish is quite hearty and will fill you up, I could see a few bubbles of oil on the surface of the eggs that I presume were from the melted cheese.
The next dish was scrambled eggs with a side of roasted tomato and potatoes. It was supposed to be pesto scrambled eggs but I cannot stand pesto therefore asked for my eggs to be plain. I only eat scrambled eggs btw and in some rare occasions I have omelettes.
This dish I loved! The scrambled eggs where fluffy and packed firmly on a thin round-cut slice of toast. The eggs where scrambled with either clotted cream or heavy cream which you could taste a hint of but it was in a good way. It also meant it was as creamy as scrambled eggs could get and that there was no eggy stench at all. You may want to split this order with someone if you are watching your weight though.
By the way this is how scrambled eggs are supposed to look like, like one big happy firm glob where you cannot see egg ends meet. I hate it when I order scrambled eggs and end up with a plate of yellow disintegrated egg strands that resemble a wet kleenex rubbed between your palms until its all long white strips. If you order scrambled eggs at Bistro you will get scrambled eggs at Bistro and I've heard raving review regarding the pesto version as well.
The last of the egg breakfast dishes was transitional dish between savoury eggs and sweet desserts. It remains nameless still and The Gathering Bistro would love your input on what to call it on their instagram account. Its two sunny-side-up eggs stacked on top of bacon, turkey, cheese, and sugar glazed donuts. Yes, donuts, the sugar glazed kind.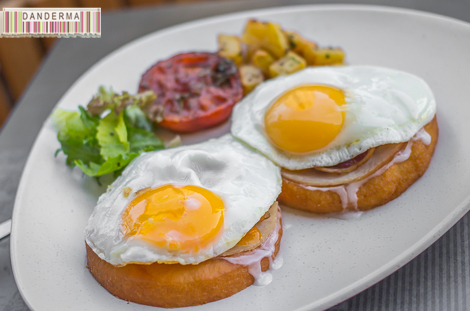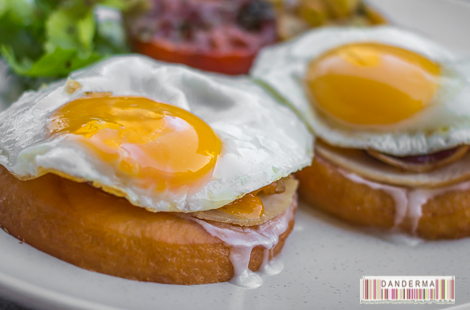 A dieting catastrophe of a dish that's yet to be name, this John Doe egg dish is either quite disgusting or very interesting for the diner, depending on their palate. Personally I wouldn't touch but my husband was over the moon with joy as he sunk his knife deep into the sunny side of the egg and let the yellow yolk drench the sugar glazed donuts.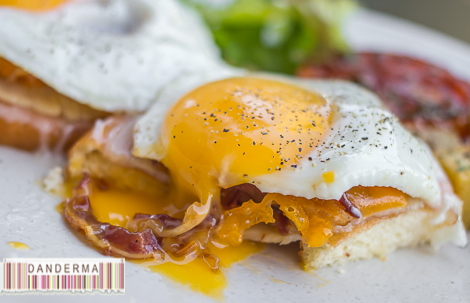 His verdict? Absolutely delicious but should be eaten alone since its considered an entire breakfast meal! To each his own I guess, if you are a fan of sweet and savoury and won't be grossed out by the thought of having sugar glazed doughnuts with your eggs, bacon, cheese, and turkey then you should try this dish. If you aren't a fan -like me- or perhaps have some trouble controlling your cholesterol levels I'd say you better sit this one out.
The sweet breakfast dishes arrived afterwards, pancakes for me. I had a choice of blueberry or kinder pancakes and I went for blueberry for I adore the little blue juice berries.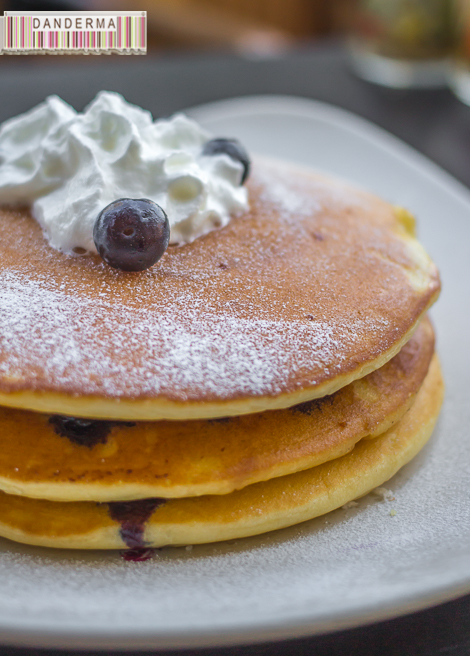 The pancakes were drenched in blueberry syrup and stacked up high, finished off with a dollop of whipped cream and some blueberries. They were fluffy and perfect, the blueberries adding the perfect tang to the forkfuls of doughy pillows. My only complaint would be that portion size, its humongous! I ate and ate and barely made a dent in the three stacked cakes. I would order it again if and only if I was out for breakfast with five or more girls who would still be able to eat through after a heavy breakfast.
Last but not least came the waffles. Chocolate waffles topped with Nuttela, strawberries, a scoop of vanilla ice cream, and crunchy biscuits then finished off with drizzles of strawberry and chocolate sauces.
Does the waffle itself look a bit weird? It does, for if you are looking for boring old waffles then this is not it. The batter used to make the waffles is more like biscuit or cookie dough than actual cake or pancake dough and resulted in a nutty biscuity crunchy waffle. More brownie than pancake texture wise and not bad at all.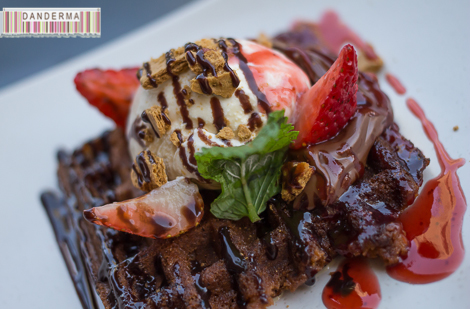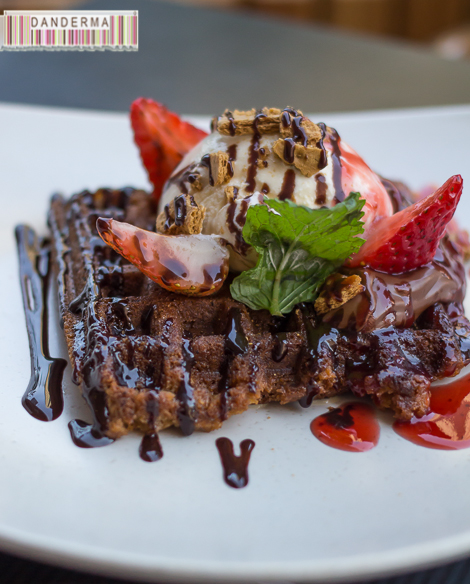 It was one memorable Tuesday breakfast indeed! The weather was awesome, the food was perfect, and if you've tried and liked Bistro's food before you'll love the breakfast dishes even more than the lunch or dinner ones. Thank you Yousef Al-Saad and Fahad Al-Fulaij for your invitation, warm welcome, and generous hospitality. We cannot wait for the breakfast menu to be officially launched.
The Gathering Bistro will start serving breakfast next Sunday 10 November 2013. They are located in Al-Salhiya area in Kuwait City right opposite Salhiya Mall. For more information about The Gathering Bistro you can call them on +(965) 22449091, like their facebook page (link), follow them on Twitter (@GatheringKW) , or on instagram (@GatheringKW).